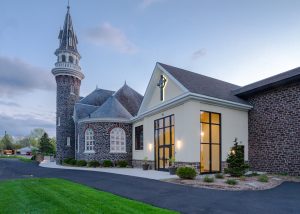 The Project
PROJECT INCLUDED:
Renovated area 1,300 sq. ft.
New addition 3,700 sq. ft.
FEATURES:
 Project integrates two existing buildings into one.
 Two new entries offer handicapped accessible pathways from the two different
exterior grade elevations.
 Design/Build conventional steel project, completed in collaboration with
H. Mininger & Sons, Inc. and Raphael Architects. Schlosser Steel Buildings, Inc.
provided structural design services for the entire project and the structural
steel was fabricated and installed by Schlosser Steel, Inc.